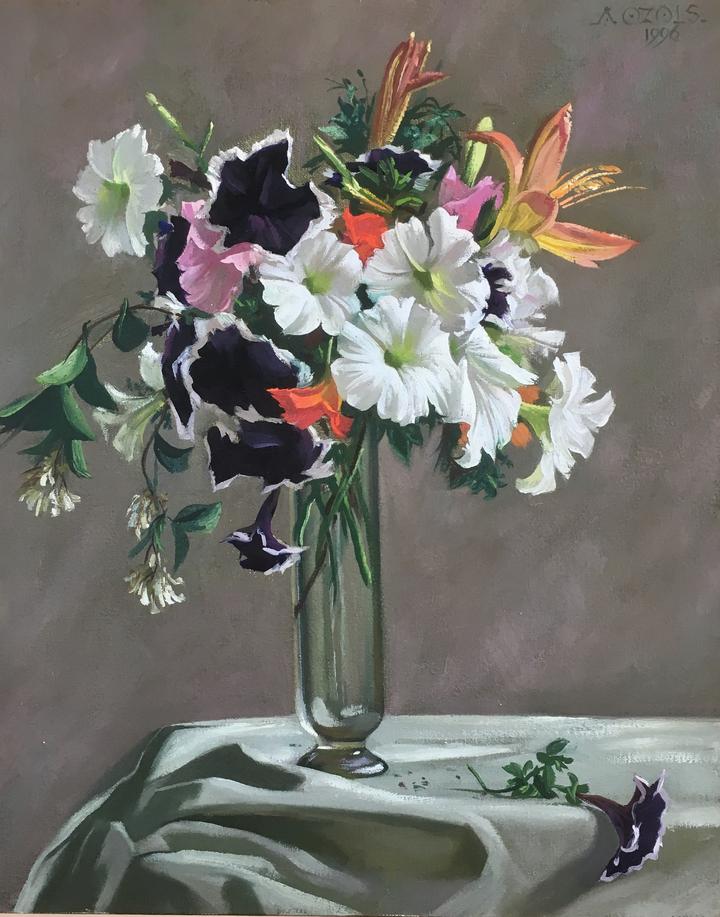 We are pleased to share that Distinguished Artist Member, Auseklis Ozols, is announcing a select series of recent and retrospective work for sale. The available paintings can be viewed on his new sales website https://auseklisozols.com Please have a look and let him know if you would like to arrange a private viewing. Due to current covid protocol, all viewings are by appointment only.
Pictured: "Tunias," by Auseklis Ozols demonstrates a pristine approach to color, composition, atmosphere, representation of texture, and meaning inherent in the beauty of nature. This arrangement of petunias, jasmine, and lillies juxtaposes the fragility and delicacy of garden flowers with an atmosphere of intense and heavy humidity. The manner in which Ozols activates the negative space with lively brushwork and subtle variations of contrasting and complimentary colors is truly unique. This scale of this work is a manageable 16″ x 20′ and offers a beautiful example of an Ozols arrangement.
To view available work for sale please visit https://auseklisozols.com
For historical information on Ozols and an in progress archive of his life's work, please visit https://ozolscollection.org
Auseklis Ozols is the Founder of the New Orleans Academy of Fine Arts, where he served as Director, Chief Curator, and Senior Instructor from 1978-2020. His work is represented in private and public collections internationally. A Realist painter in the Philadelphia tradition, he works from direct observation utilizing classical techniques in Portrait, Figure, Landscape, and Still Life Painting. His work has been documented through numerous publications, awards, and accolades.