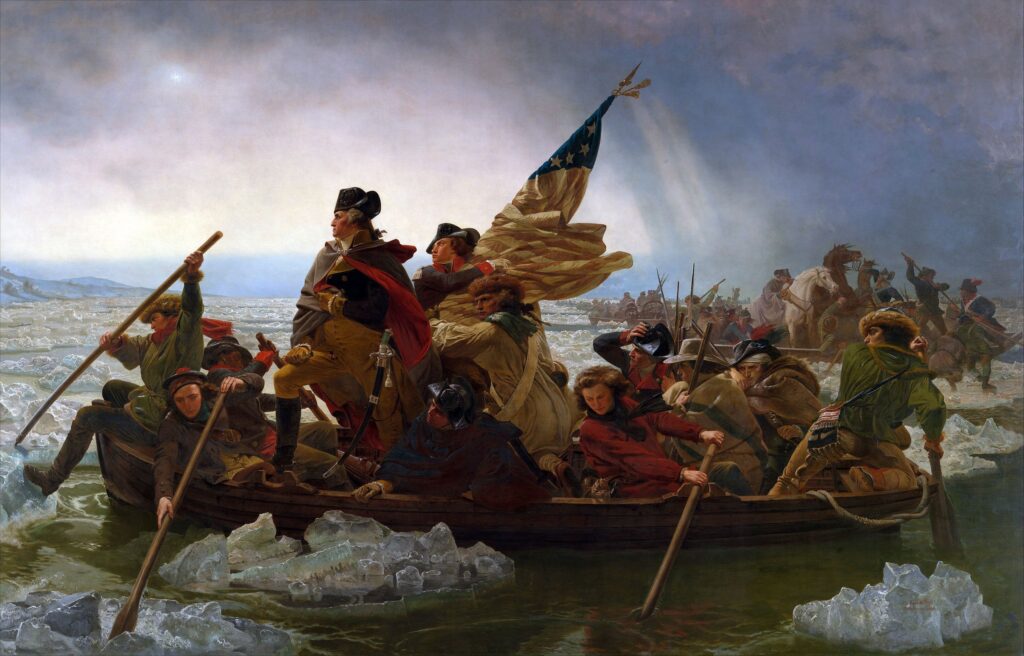 Re-framing artwork to include multiple perspectives is now one of the most important things that can happen as the art community grapples with the current environment. This painting of Washington Crossing the Delaware, by Emmanuel Leutz, part of the permanent collection of the Metropolitan Museum of Art in New York, is an example of research already in place that supports including more than one perspective. Other institutions are already working to provide additional context such as the Museum of Fine Arts, Boston. The version of Washington Crossing the Delaware by Thomas Sully that hangs at the MFA has been re-investigated to provide remarks that contextualize the painting in an additional way.
Further research and documentation about painting, sculpture, and certainly all of the arts contains the potential benefit of enlightening society regarding perspectives other than one's own, introducing ethical arguments for debate, and offering sources for learning empathy.
This painting of Washington Crossing the Delaware by Leutz is accompanied by two interpretations that offer productive starting points for more research. The Metropolitan Museum of Art in NY offers this interpretation as well as a Native Mohawk perspective about the painting on its website, both below:
"Leutze's depiction of Washington's attack on the Hessians at Trenton on December 25, 1776, was a great success in America and in Germany. Leutze began his first version of this subject in 1849. It was damaged in his studio by fire in 1850 and, although restored and acquired by the Bremen Kunsthalle, was again destroyed in a bombing raid in 1942. In 1850, Leutze began this version of the subject, which was placed on exhibition in New York during October of 1851. At this showing Marshall O. Roberts bought the canvas for the then-enormous sum of $10,000. In 1853, M. Knoedler published an engraving of it. Many studies for the painting exist, as do copies by other artists."
"The boatman pictured in the stern wears Native moccasins, leggings, and a shoulder pouch, and likely represents an Indigenous member of Washington's troops. Native American warriors fought, often decisively, on both sides of the war—British and American—according to their nation's interest. In 1778 the United States signed a treaty with the Lenape (Delaware), its first formal treaty with an Indigenous nation, securing assistance and safe passage through Delaware land in exchange for "articles of clothing, utensils, and implements of war." The treaty recognized Delaware sovereignty, guaranteed territorial rights, and offered the possibility of Indigenous statehood. But soon a (double) crossing of the Delaware took place: persistent treaty violations by settlers and the US government culminated in the 1782 Gnadenhütten Massacre, in which a Pennsylvania militia killed ninety-six defenseless Christian Lenape. Virtually all of America's Indigenous allies suffered similar fates." (Alan Michelson (Mohawk)
Another Historical painting in a major American cultural institution depicting the same scene is below. New insight by the Curator of the Art of Americas has recently been added.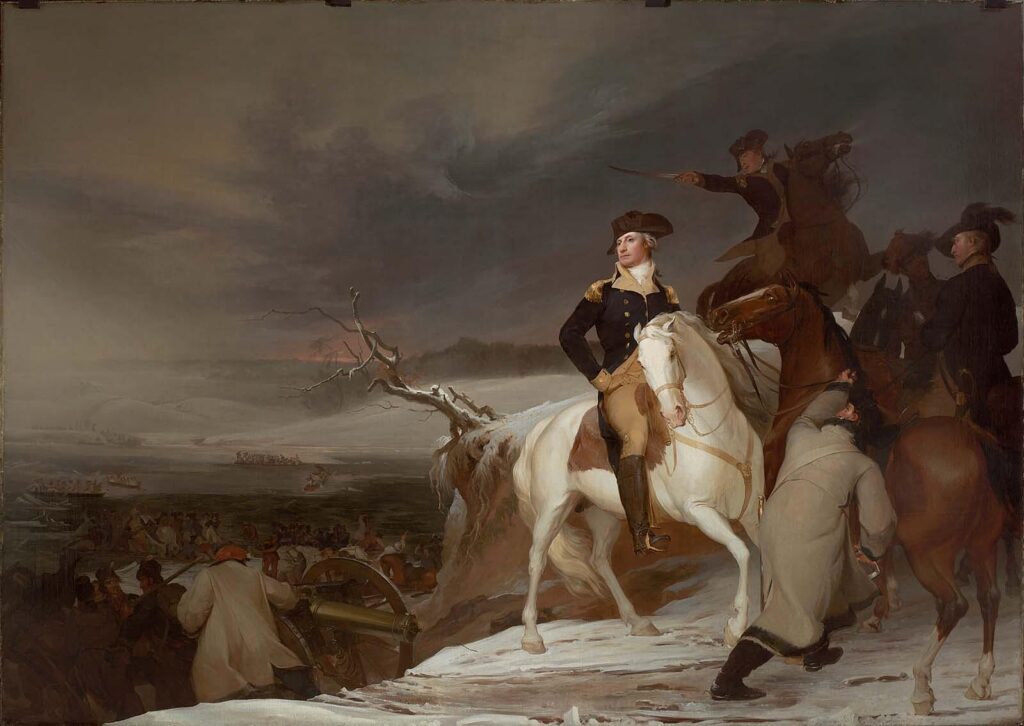 According to the MFA Boston's website, the description of the work:
"Admired for his lively brushwork, Thomas Sully was the leading portrait painter in Philadelphia in the second quarter of the nineteenth century. Historical subjects such as this one were rare in his oeuvre of well over two thousand portraits. Sully studied first with a succession of miniature painters, including his brother Lawrence. In 1807 he moved from Virginia to New York City, and later that year he traveled to Boston to meet the portraitist Gilbert Stuart. He settled permanently in Philadelphia in 1808 but soon afterwards made a trip to London to study with Benjamin West. In England, Sully also familiarized himself with paintings produced by other contemporary artists. He was especially influenced by the fluid style of Sir Thomas Lawrence's portraits. "

"The Passage of the Delaware was commissioned by the state of North Carolina for the Senate Hall of the State House in Raleigh—one of many contemporary history paintings sponsored by the young American government. According to the register of paintings that Sully kept, he began the canvas on August 7, 1819, and finished it a little over four months later on December 15 (some three decades earlier than Emmanuel Leutze's more famous version of the subject at the Metropolitan Museum of Art, New York). Sully had suggested the subject, "the passage of the Delaware, preparatory to the battle of Princeton," to the governor of North Carolina. [1]This event, a turning point for the American military during the Revolution, took place on Christmas night 1776. General George Washington and his troops unexpectedly crossed the dangerously ice-clogged Delaware River from Pennsylvania to New Jersey in a snow storm to surprise the English forces. They engaged the next day at the Battle of Trenton, a crucial victory for the Americans. Paying close attention to accounts of the unfolding of events that fateful December night, Sully depicted the moment before George Washington dismounted to join his lieutenants in crossing the river; the general has sent a brigade with artillerymen across first, as evidenced by the cannon visible over the crest of the hill. Sully's image of Washington is that of the composed and decisive leader, dramatically highlighted and isolated from the surrounding flurry of activity. " (MFA Website)
New insight by Ethan Lasser, John Moors Cabot Chair, Art of the Americas⁣, has recently been added: "Standing to the right and hidden in the shadows in Thomas Sully's dramatic portrayal of Washington leading his troops across the Delaware is a Black man on horseback, his head wrapped in a red turban. William Lee served as Washington's valet and accompanied him to the battlefield throughout the Revolutionary War.⁣
⁣
What did the war look like through William Lee's eyes? What did it mean to fight for a new nation in which one-fifth of the population was enslaved, in which the notion that 'all men were created equal' and the conviction of 'unalienable rights' did not apply to hundreds of thousands? Peering out from the background, observer and participant, Sully's image of Lee calls attention to the role that people of color played in our nation's founding, and invites us to reflect on all who were excluded from the founding document that this holiday commemorates."⁣ (Ethan Lasser, John Moors Cabot Chair, Art of the Americas⁣, MFA Boston)